Haute Route 2006 Galleries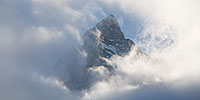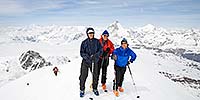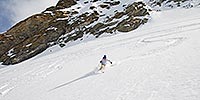 The Best of:
A Photo Essay of the Tour
Haute Route 2006 Published:
Mountain Life Magazine publishes my article on the trip in the Winter 2007 issue.
Warm-up / Aclimatization Days
Crans-Montana Ski Resort - Glacier de la Plaine Morte
Ecole Polytechnique Fédérale de Lausanne - Glacier Research station - Dr. Scott Tyler
Moonlit Night from the shores of Lake Geneva at St. Sulpice
Travel Day to Zermatt - we drive from St. Sulpice to Tasch with a brief stop in Sion to pick up some lunch supplies. From Tash we take the train up to Zermatt and do a little walking tour of the town.
Memorial Stone for Fallen climbers in the dedicated gardens of the Zermatt Catholic Church.
Zermatt / Klein Matterhorn Ski Day - 16 April
The Haute Route Trip - Day by Day
Day 1 - from Zermatt to the Breithorn Summit and on to Schoenbiel Hutte - 17 April
Day 2 - Schoenbiel Hutte to Cabane de Bertol via Tête Blanche - 18 April
Day 3 - early morning light at Cabane de Bertol and the ski descent to Arolla - 19 April
Day 4 - the climb from Arolla to Cabane des Vignettes - 20 April
Day 5 - Cabane des Vignettes to Cabane des Dix via Col de Bernay, and an afternoon ski tour to the Summit of La Luette - 21 April
Day 6 - Cabane des Dix to Cabane de Chanrion via Mont Blanc de Cheilon West - 22 April
Day 7 - Cabane de Chanrion to Fenetre de Durand and the decent to Glacier Italy, and some images from the afternoon in La Palud at the base of Mont Blanc - 23 April
Day 8 - La Palud into Pt Helbruner Whiteout. We were forced to return and went through the Mont Blanc Tunnel to get to Chamonix - 24 April
Day 9 - Chamonix rain day - 25 April
Day 10 - Skiing the Vallée Blanche from Aiguille du Midi to complete the Haute Route Tour- 26 April
Post Haute Route Adventures
Discovery in Zermatt that the snow was gone.
Patrouille de Glacier - Zermatt to Verbier Ski Mountaineering Race Start
Warm Spring hike in Zermatt
Tour de Romandie - Final stage time trial - Lausanne